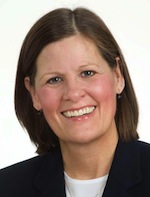 Mary Beth Growney Selene
RI Director 2013-15
As Rotary Clubs move forward in our fast-paced and increasingly global economy, we need to look at ways that we can be more attractive to our future members as well as engage our current membership. The first questions we need to ask ourselves are, (1) are we relevant to our members and those communities we serve and (2) what can/should we be doing better to make ourselves more attractive to those future members whom we have yet to introduce to Rotary.
As we look to our (current) young members (and future leaders), what are their expectations of their Rotary membership? Do we know? Do we know why they have joined Rotary, other than an expectation? If their membership is only to fulfill an expectation or obligation, are they a member of Rotary or are they a Rotarian? What can we do to help them move them from members of Rotary to true Rotarians?
Do our programs engage the families of our young members? Do we encourage program development within our Clubs that will be better because of the participation of our "families"? Road clean-up, park clean-up, tree planting, serving the elderly, etc. can not only allow family engagement, but, with proper leadership, can encourage our young professionals to include their families in their Rotary service. Instead of taking away from family time, these activities can, will and do enhance family time.
Each of our Clubs need to be surveying our members, on a regular basis, as to what projects and programs are the most important to them. These surveys must be presented in as objective a manner as possible to allow all of our members to truly express their support, concerns and suggestions. Once the survey process is completed, our Rotary Clubs need to take seriously, the messages that we have received from our members.
Further, in an effort to ensure that we are addressing the needs of our "communities", we need to ask those we serve what their needs are. We are not as effective as we could be if we as a Club determine what we think the "needs" are rather than asking our community and educational leaders how we can best fulfill their needs.
Time is wasted if, for example, we internally determine that our Club would like to provide tutors for 6th graders at our local school, when the school's real needs are to provide for teacher's aides at the 4th grade level. Sadly, the result, if we continue on our original course of participation, will be a short-term involvement with this school. They will look at us as dictatorial rather than participatory. They will continue to need our services, but, they likely will not look to Rotary as a long-term partner. We will have missed out on the opportunity for a long-term partnership, engaging our members with a potentially great project that meets the needs of our members and the students and schools. We could have avoided this non-relationship had we been more of a partner.
Whatever we do as we move forward in Rotary, we need to serve our members once they have made the commitment to join Rotary. Once engaged, we will have long-term Rotarians, rather than just members of a Rotary Club.
Mary Beth Growney Selene, R.I.Director Elect, RC (Zone 28)